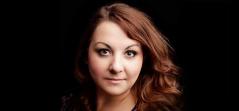 Céline Forrest
Soprano (UK)
Céline Forrest is a 24 year-old Welsh Soprano who has just completed her first year on the Royal Academy Opera Programme, having previously completed her undergraduate degree at the Academy. She received the 2014 Kiri Te Kanawa Foundation (UK) Scholarship.
She studies with Iain Ledingham and Julie Julie Kennard, who says 'Celine is a singer with formidable potential which is now being reached. Her career is going and will go from strength to strength.' Celine had a very successful first year on the Opera Course. 
She won the highly prestigious Richard Lewis Prize, and received much acclaim for her role of Female Chorus in the Royal Academy Opera production of Benjamin Britten's Rape of Lucretia.  She recently won the Welsh Singers Competition and was chosen to represent Wales in the Cardiff Singer of the Year competition in 2015.
Céline has performed in masterclasses with Susan Bullock, the late Robert Tear, Diane Forlano, Dennis O'Neill, Barbara Bonney and, most recently, Ann Murray.
She has performed with Welsh National Youth Opera several times, including the lead role in The Sleeper in 2011. As a soloist with the Ariosa Singers, she has travelled to Dublin, Prague, Paris, Barcelona and Tuscany.
Céline enjoys returning to Wales to perform as guest soloist with many choirs. She performed in Dunvant Male Choir's tour of Germany in 2010 and their Gala concert, where she sang a duet with Alfie Boe. She toured Brittany with the Morriston RFC choir and sang at the Inter Celtic Music Festival last year. Her recent oratorio work includes Haydn's Creation and Handel's Judas Maccabaeus. She has also won accolades as a member of the prestigious Academy Song Circle.