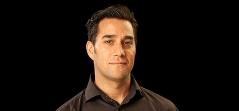 Phillip Rhodes
Baritone (New Zealand)
Phillip Rhodes (winner of the 2005 Lockwood NZ Aria and the 2007 Lexus Song Quest) received a Foundation grant in 2008 which enabled him to accept a place at the prestigious Cardiff International Academy of Voice under the tutelage of Dennis O'Neill. He won second prize in the International Montserrat Caballe Competition held in Zaragosa, Spain, and appeared in concert with the legendary diva in Cologne, Germany. He subsequently received further Foundation grants which included the Laurie Coon Scholarship (2009) and a grant made in partnership with the Dame Malvina Major Foundation and the Deane Endowment Trust.
Recent successes followed including his debut as Count de Luna Il Trovatore at Dorset Festival Opera, and his debut engagement at Opera North as Aeneas Dido and Aeneas/ Iago (cover) Otello. Phillip's roles in the 2013-14 Season include Balstrode (cover) Peter Grimes at Opera North and his role debut as Marcello La Boheme for the same opera company. In 2014 Phillip performed the role of Marcello with the NZ Opera Company and then again in 2015 to perform the role of Scarpia in Tosca. In 2016 The Royal Opera House Covent Garden invited him  to cover the role of  Enrico Lucia di Lammermoor under the aegis of a special grant provided by the Kiri Te Kanawa Foundation.
2017-18 saw Phillip continuing his long association with Opera North in the roles of Alfio Cavalleria rusticana, Silvio Pagliacci and Renato Un ballo in maschera. Back in New Zealand, he appeared as Judge Turpin Sweeney Todd and also covering the title role. Back in the UK he stepped into the roles of Mizgir The Snowmaiden and Peter/Father Hansel und Gretel, both for Opera North. At the new festival at The Grange he completed the season with his portrayal of Escamillo Carmen, his role debut.