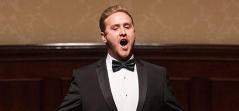 Julien Van Mellaerts
Baritone (New Zealand)
In July 2015, Julien Mellaerts, a London-based New Zealand baritone graduated from The Royal College of Music with a Masters of Performance with Distinction. Before moving to London, to continue his studies, Julien studied music (under Terence Dennis, Isabel Cunningham and Flora Edwards) and languages at the University of Otago, NZ.
Since 2016 Julien has received a number of grants for auditions, travel and tuition from the Kiri GTe Kanawa Foundation (UK) in support of his continuing study towards his Artistic Diploma in Opera at The Royal College. He also received much appreciated mentoring with Dame Kiri. In 2017 Julien was awarded first prize in the coveted Kathleen Ferrier Awards and then took top prize at the 2017 Wigmore Hall/Kohn Foundation International Song Competition. He graduated from The Royal College of Music International Opera School and was honoured to be awarded the Tagore Gold Medal (the highest award for a graduating student) and returned to The Royal College earlier this year (2018) to sing for HRH Prince Charles to receive the medal.
2018-19 will be an exciting period for Julien – he will make his debut with the Royal Ballet in a production called Elizabeth, at the Barbican in London, touring to the USA, and around the UK. He will also make his debut with New Zealand Opera in September, performing the role of Schaunard in La Bohème, alongside several other Kiri Te Kanawa scholars. Other upcoming engagements include: Onegin in Eugene Onegin with Cambridge Philharmonic; world premiere of A Christmas Carol by Will Todd for Opera Holland Park; Fauré Requiem at the Royal Albert Hall; Recitals at Cadogan Hall, Leeds Lieder, London Song, Oxford Lieder Festivals, and Heidelberger Frühling. 
Currently (2018) in Montreal at the International Music Competition in Montreal where he is one of the contestants in the art song category. He will be making his debut at Longborough Opera in July, and returns to New Zealand in the autumn as Schaunard in La Boheme for NZ Opera.