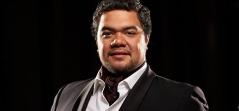 Darren Pene Patti
Tenor
Darren Pene Pati is a young Samoan-born tenor living in New Zealand. His previous achievements include winning the Sydney Eisteddfod Macdonalds Aria, the prestigious NZ Aria in Rotorua where he also received the 'Most Promising Voice' award and the 2010 Performing Arts Competition Society 'NZ Young Performer of the Year' award.
Maestro and highly respected Richard Bonygne singled out the Samoan-born tenor quoting 'he has a voice from the Gods' (Sydney Herald). Pene has also been the recipient of several major awards including the inaugural 'Iosefa Enari memorial' scholarship from Creative Arts NZ, the Seamus Casey Memorial Award, and many more from the University of Auckland such as the Pears Britten and Marie D'albini. 
In 2011 he accepted an invitation to study under Dennis O'Neill at the Wales International Academy of Voice in Cardiff. At the time of acceptance he said "my time at the Academy of Voice "will provide me with the necessary time to consolidate my vocal technique and provide performance opportunities and a platform of exposure in the UK and European opera market. This will be the most important time of my development, and a time I know will carve the way for the rest of my career. Working with Dennis in this environment will set me up with a proper bel canto technique." 
Dame Kiri spent time mentoring and advising him about his technique and career and he subsequently received Kiri Te Kanawa Foundation(UK) grants for tuition and living expenses to support his first year in Cardiff.