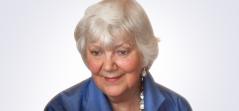 Gillian Newson
Gillian Newson spent several years working in the commercial sector in France and Belgium, before joining the Hong Kong Government's Information Services Department as a Senior Cultural officer with special responsibility for the Hong Kong Arts Festival, and the Queen's Silver Jubilee in Hong Kong. Invited to New York, she became part of the lead team on Britain Salutes New York Arts Festival before returning to the UK to take up management worldwide of the Kings Singers.
In 1990 she joined IMG in London to manage and produce touring productions and artists including the Hampton Court Music Festival, Mikhail Baryshnikov's White Oak Company, Sylvie Guillem, English National Ballet, and headed the Dance department for ten years in London and New York.
Today she acts as a consultant for international touring and co-productions, and continues to represent major companies. A former Board member of the National Youth Music Theatre, the Society for Promotion of New Music, she currently serves as a Board Member of the National Opera Studio, as well as the Kiri Te Kanawa Foundation (UK) and the Darbar Festival of Indian Classical music.