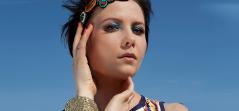 Lauryna Bendziunaite
Soprano (Lithuania)
Lauryna Bendziunaite has an in depth knowledge of both opera and musical theatre and has a broad repertoire that spans from Puccini to Sondheim. She studied at the Lithuanian Academy of Music and Theatre (with prof. R.Maciute) and the Royal Academy of Music, London (with Prof. Joy Mammen). Since she left the Academy in 2010 and studied with Dame Kiri Te Kanawa and Dennis O'Neill with a tuition grant from the Kiri Te Kanawa Foundation (UK).
In the season of 2014/15 she will be a member of the ensemble of the Stuttgart Opera where her roles include Musetta/La bohème, Karolka/Jenufa, Aennchen/Die Freischüts, Amour/Platée and Naiad/Ariadne auf Naxos.In the season of 2012/13 Lauryna Bendziunaite appeared as Musetta at NorrlandsOperan in Sweden and in Carl Orff´s Carmina Burana, Catulli Carmina, Trionfo di Afrodite and concert " La bella voce III "with Lithuanian State Symphony Orchestra. Future season will among others include a tour with Norrlands Opera's La bohème, and Despina and Johanna at Vilnius City Opera. In concert she will sing First Nymph in Dvorák's Rusalka with the Netherlands Radio Philharmonic Orchestra conducted by James Gaffigan at Concertgebouw, Loreta Narvilaitè's composition Miestas with National Philharmonic Orchestra, under the baton of conductor Modestas Pitrenas at Contemporary Music Festival Gaida, and a New Year concert with Lithuanian National Philharmonic Orchestra, conductor Juozas Domarkas.
Recently Lauryna Bendziunaite made her debut at the Royal Swedish Opera as Musetta in La bohème and was immediately invited back again to sing the same part following season. She then went on to perform with Dame Kiri Te Kanawa in a Gala Concert in Dublin. Her European success has also taken her to London where she recently had the opportunity to cover the role of Ascagne in Les Troyens at the Royal Opera House.
She is a regular guest at the national venue in Lithuania, Vilnius City Opera, where she has sung Pamina/Die Zauberflöte, Musetta/La bohème and Sophie/Werther.
Recent concert engagements include appearances with Lithuanian National Philharmonic Chamber Orchestra Musica Humana, Lithuanian National Opera Orchestra, Lithuanian State Symphony Orchestra, Brandenburgische Staats Sinfonie Orchester, Norrköping Symphony Orchestra and London Sinfonietta under the baton of the conductors such as Lawrence Renes, Vizgirda, Servenikas, Kutson, Pinnock, Ringborg, Stapleton and Sir Charles Mackerras.
Lauryna Bendziunaite has received many awards during her career, including, winning first prize in the International XXI Century Art Contest, the Pavarotti Prize from the Royal Academy of Music, London and she had the honour of being crowned Lithuanian Discovery of the Year in 2011
http://www.goodcompany.se/en/artists/soprano/lauryna-bendziunaite/