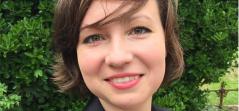 Galina Averina
Soprano (Russia)
Galina Averina is a young Russian soprano currently studying at the Royal College of Music in London. She is about to start her second year at the International Opera School. She made her international debut in 2013 as Despina in "Cosi fan tutte" in the Dubrovnik Summer Festival and has been awarded many notable prizes including the Grand Prix at "New Names" Young Musicians Competition in Moscow, "Vocalists 2012" Award, Junior Prize in Les Azuriales Opera International Singing Competition in Nice (2013), the 6th Prize and the Audience Prize at Francisc Viñas International Contest in Barcelona (2015) and was a finalist in the Stuart Burrows International Voice Award 2015.
In 2013, following masterclasses with Dame Kiri, Galina was invited to perform as a guest in Dame Kiri's recital at Cadogan Hall in London.
Galina recently received a grant from the UK Foundation to cover the costs of further coaching to enhance her technical abilities as well as interpretation to help prepare for several major competitions.